SUSTAINABLE DESIGN – THERE IS NO TIME TO WASTE
Stopping climate change requires fast and effective measures also from refurbishment and interior design projects. Instructions and operating models are lagging behind, however. Since there is no time to waste, the big question is how can we effectively affect emissions already now?
Carbon footprint calculation during design phase delivers clear benefits for refurbishment and interior design projects
At Amerikka, we have opted to incorporate more detailed methods, including carbon footprint calculation, into our design process, to complement the certification schemes available. Carbon footprinting is already an integral feature of responsible building design. It tends to get overlooked as part of refurbishment and interior design projects, however, or undertaken as a retrospective exercise, which, whilst providing an accurate assessment of the finished product, leaves no opportunity for introducing improvements. This present state of play is largely due to the fact that no universally endorsed models currently exist for carrying out this type of assessment, and there is, for the moment, no agreement on which building elements should be included within the scope of any such model. Work is very much ongoing, however, and we currently play an active role on a Green Building Council Finland (FIGBC) working group charged with developing new standards in this area.
So, are we saying that, as things stand, carbon footprint calculations are irrelevant or even detrimental to the successful running of a refurbishment or interior design project? Definitely not. In fact, carbon footprinting, particularly during the design phase, is the only way to fully understand and impactfully reduce your project's carbon emissions and make the projects future-proof. With BIM incorporated into the process at the right time, there is ample opportunity to adjust both the design and the materials to achieve a smaller carbon footprint. At Amerikka, we have the expertise to incorporate virtually every aspect of a building into the calculation and to produce highly accurate data to support your project.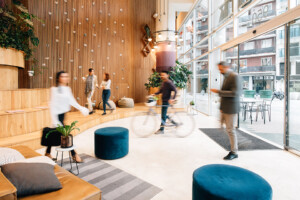 Certification no guarantee of sustainability
A number of environmental rating schemes already exist to nudge the construction industry towards greater sustainability, big names like LEED, BREEAM and WELL among them. Certification is now almost expected as standard across the real estate sector, and with the growth of green finance, it is set to become even more integral part of the industry.
The important thing to bear in mind, however, is that securing certification for your development will not guarantee that you will be in a position to meet national and international sustainability targets. This is because of the broad-brush principles that underpin the schemes available and their lack of cross over applicability to refurbishment and interior design projects.
Which industries stand to gain the most?
More than any other element, it is the intended life cycle of a development that ultimately determines its carbon footprint. That is why carbon footprint assessments are particularly important for projects involving a high energy consumption or occupancy rate. The same goes for large-scale projects, particularly those encompassing multiple units of a given element as the significance of each individual (and hopefully more sustainable) choice is then amplified. Hotels, offices and retail chains are all excellent examples of high carbon-impact built environments where carbon footprint assessment supported design represents an excellent opportunity for delivering development that is truly future proof.
Provided you have the right partner on board, taking an ambitious and industry-leading approach to sustainability on your refurbishment or interior design project need not be a hassle or cost you the earth. The fact is that we need to make the transition to a radically lower carbon future, and the quicker we do it, the more benefit we stand to deliver for all. At Amerikka, we find that sustainability is increasingly valued by our clients, building owners and occupants, and investing in it is a no-brainer, financially and otherwise.
At Amerikka, all our work is informed by the latest research and data, based on genuine creative expertise and supported by the latest tools and methodologies. Since our founding in 2004, we have established ourselves as Finland's leading sustainable design agency. We offer BIM-based carbon footprint calculations and sustainability assessment on all our projects incorporating interiors and furniture.
Read more