Ruohonjuuri flagship store bringing change to Helsinki
Green retailer Ruohonjuuri's new flagship store, designed by Amerikka, is a pioneer project that is heralding change for Helsinki's city centre. A greater focus on renovation and modernisation is expected in the Finnish capital but when it comes to sustainability, there is still plenty of room for improvement.
Ruohonjuuri's new flagship store on Mannerheimintie, due to launch on 24 March 2022, is a pioneer project for building renovation and modernisation. In an innovative move, the carbon footprint of this Amerikka-led project was calculated during the design phase. The lifespan of the store was also set at 10 years, instead of the 3–5 years that's typical for retail spaces of this kind.
"Lots of businesses already produce sustainability strategies that do an excellent job of accounting for the environmental impact of their offices and supply chains. What's still often overlooked is the fact that building work is responsible for a vast proportion of our carbon emissions. So it's those emissions that businesses that are serious about sustainability will need to take this into account when designing and building their offices and other commercial spaces," notes Sami Maukkonen, CEO at Amerikka.
Part of the challenge is the lack of off-the-peg carbon emissions calculation tools suitable for use on renovation and interior architecture projects. To address this issue, Amerikka has developed its own proprietary process that allows these impacts to be calculated accurately. Thanks to the new method, Ruohonjuuri's flagship store has achieved a carbon footprint that is 15% smaller than expected. The total lifespan of a store has a huge impact on overall carbon emissions. There is often pressure within the retail sector for premises to be frequently updated, which can result in building work being carried out when it's not really needed. At Ruohonjuuri's flagship store, every effort has been made to reduce the need for frequent refurbishment and upgrades by opting for flexible, modular design solutions and high-quality and durable materials. The main materials are Finnish spruce, cork, brick, linoleum and steel.
Spanning a total of 700 sqm, Ruohonjuuri's new flagship store is located at Mannerheimintie 7, a historic property designed by Armas Lindgren in 1914. The premises were previously occupied by Nordea bank. The building's original historic features have been retained wherever possible and changes have been made only where they have been critical to delivering an extended lifespan for the store. The office spaces are furnished using existing furniture, while the shopfittings are designed by Amerikka and sourced from Finnish manufacturers. Ruohojuuri has led the way on sustainability since 1982. For its investment, the company has a track record of looking to innovative and eco-efficient solutions. These play a particularly important role when Ruohonjuuri stores undergo refurbishment.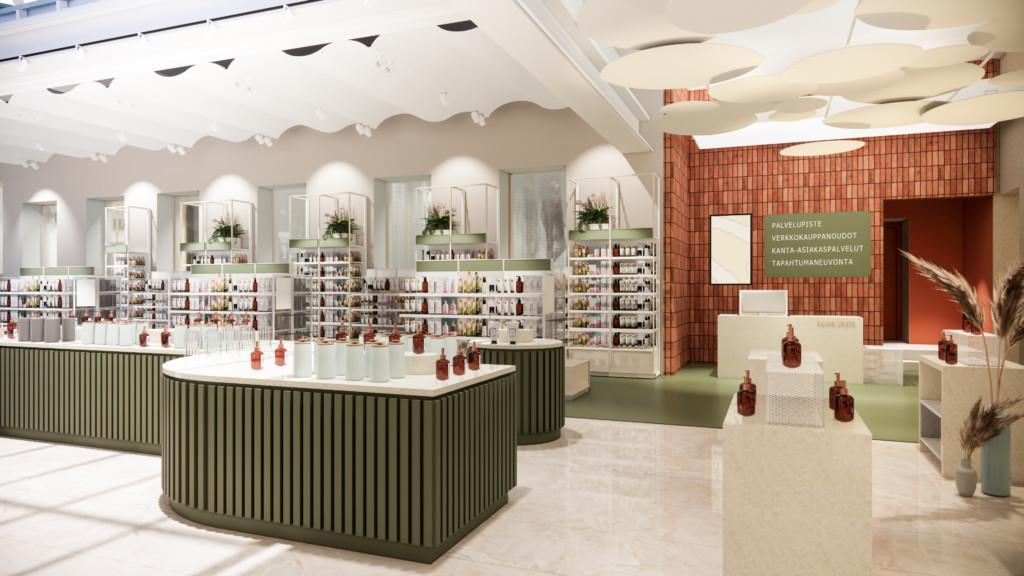 "Sustainable building means creating attractive, appealing spaces for shoppers and staff where the design serves the intended function. Ruohonjuuri's customers are driven by a shared set of values, which is why we have chosen to put the social dimension front and centre in our design. The new store is ideally set up to offer a whole new range of in-store services too," Makkonen explains.
The Ruohonjuuri flagship store will also be used to pilot new retail concepts. As the company's offices are located on the same premises, customer feedback and other insights can be shared seamlessly and effortlessly between teams. The multi-purpose Ruohojuuri Oasis opens out on to the street outside, and it is envisaged that the space will come to be used by customers and Ruohonjuuri's partners too.
"The past few years have shown us that when you have a strong concept, you will do well, even in a challenging climate. Traditional city centre operators, like banks, are starting to give way to responsible retail businesses. I like to think that there is a strong, diverse and vibrant future in store for Helsinki's city centre," Maukonen says.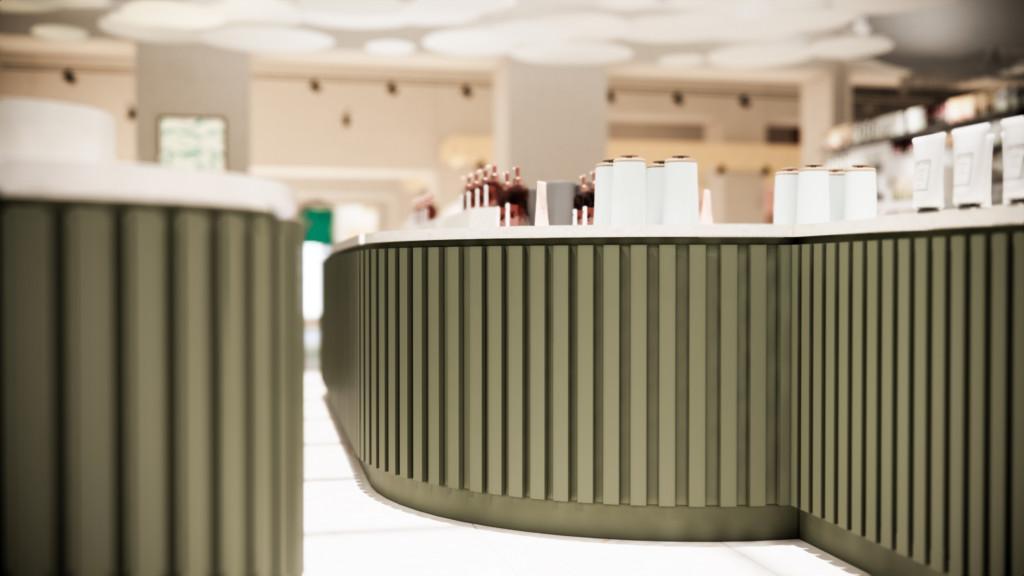 Design Office Amerikka
Founded in 2004, Amerikka offers interior and architectural design services as well as consultancy on regional development projects. We are committed to working closely with both end-users and property developers to deliver truly client-centred design. All our work is informed by the latest research and data and draws on genuine creative expertise and the latest industry tools and methods. Our previous projects feature some of Helsinki's most high-profile retail concepts, including Kampin Kortteli, Bank, Gillet Bistro & Bar and the newly renovated Kaivopiha. We are currently working on the project to refurbish and repair Helsinki's historic main railway station.
Ruohonjuuri
Ruohonjuuri is a retailer specialising in organic food, natural cosmetics, health products and wellbeing.  Every one of our products represents a better choice for the planet and people. We currently have 16 stores in Finland along with our online shop. International shoppers can visit us at ruohonjuuri.com and at happyfoodstore.se.
This article was first published as a media release to mark the launch of Ruohonjuuri's flagship store. 
Read more