facts
Subject:
Ruohonjuuri flagship store, Mannerheimintie 7, Helsinki
Customer:
Ruohonjuuri Oy
Timeframe:
2021-2022
Scale:
Retail and office premises 850 sqm
#designbyamerikka:
Responsible for developing a strategic, functional and visual concept in collaboration with the client and preparing and running design workshops. Concept design for on-site office spaces. Project and technical design, store communications and signage. Sustainable development and carbon footprint pilot project.
Project team
AMERIKKA: Taija Maunu, Fiia Mustonen, Sami Maukonen, Susanna Leppänen, Tomi Jokinen, Teemu Nojonen, Matias Hietanen, Topi Vallarén, Oona Airas, Mikko Lahti
Ruohonjuuri (Client)
Ylva Oy (Building owner)
Top 4
Flagship store project marking Ruohonjuuri's return to its roots in Helsinki's city centre
Creating Finland's top natural beauty department
Delivering experience-rich, adaptable spaces
Stylish and practical commercial space that is both visually impactful and sustainable
EXPERIENTAL FLAGSHIP STORE WITH A FOCUS ON SUSTAINABILITY
SHARED GOALS, VALUES AND SENSE OF PURPOSE
Amerikka and Finnish organic food and natural cosmetics pioneer Ruohonjuuri enjoy a long-standing collaboration, which has now resulted in Ruohonjuuri's new flagship store on the corner of Mannerheimintie and Kaivokatu, a prime site in the Finnish capital. From the very beginning of this latest venture, it was clear that Ruohonjuuri, Amerikka and property owner Ylva were each committed to creating a sustainable commercial space, with Amerikka using their concept design experience to deliver high-impact aesthetics and functionality with an experiential approach. Ultimately, the objective was to revitalise the bricks-and-mortar experience for shoppers in this part of the city.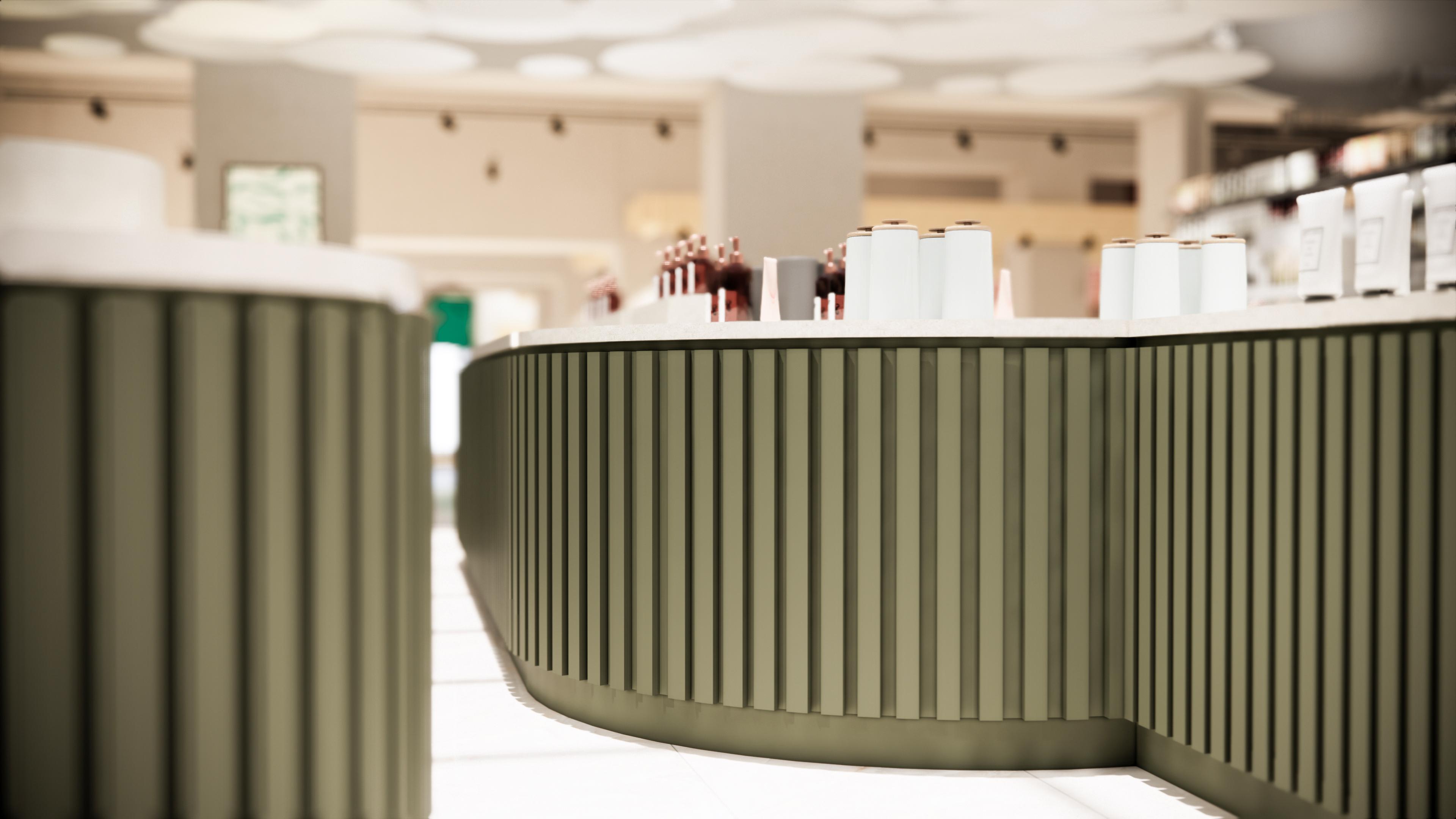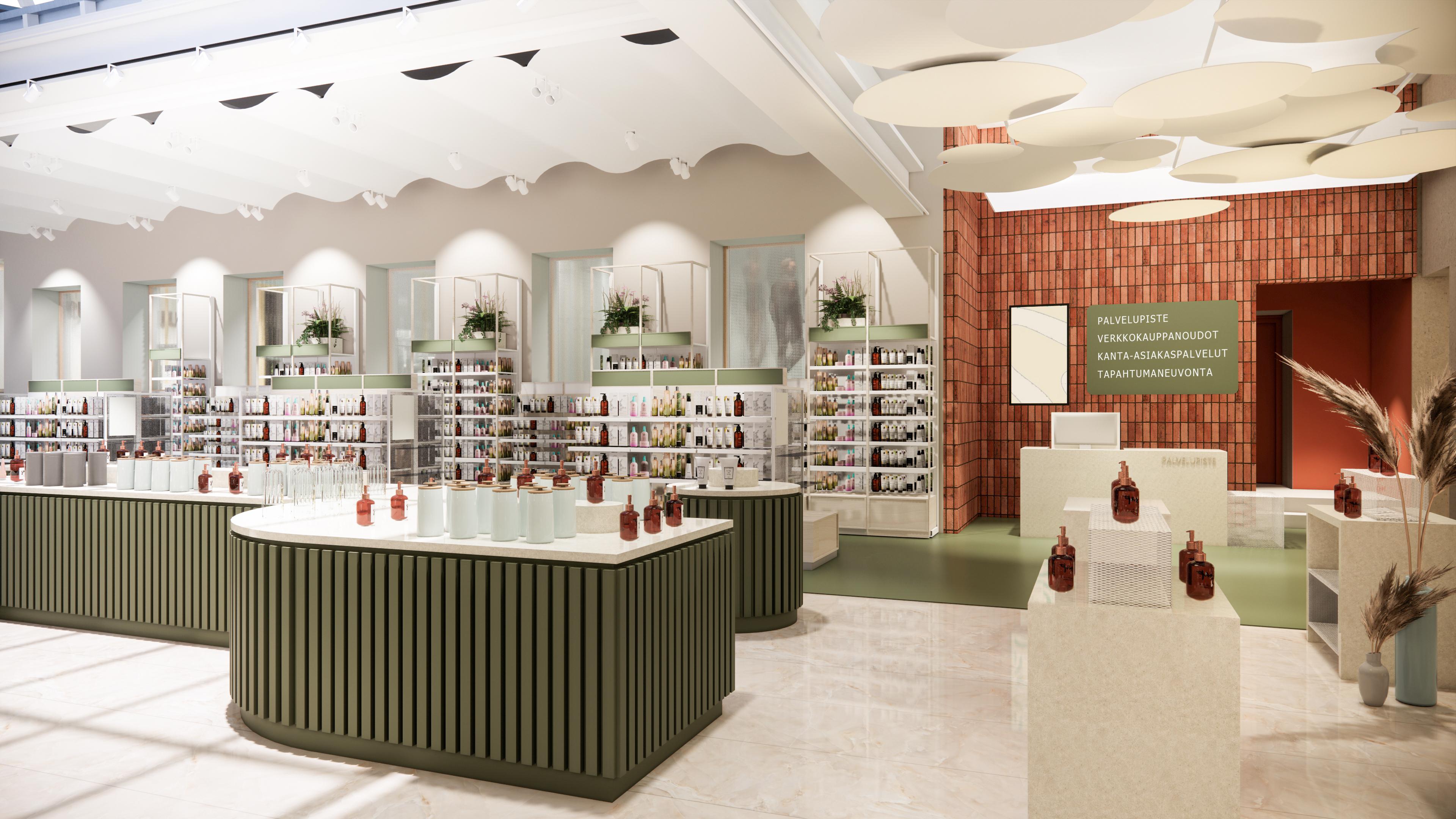 Design approach:
The concept design was drawn together in close collaboration with Ruohonjuuri. Amerikka was responsible for leading a series of workshops that were an opportunity for participants to articulate the store concept, identify the key functional aspects and give shape to the strategic and spatial solutions for the store.
The store is designed to stand the test of time and to support a range of different uses and events. Every effort has been made to maximise the occupancy rate. To this end, the office and retail functions have been brought together under one roof, and the property has been complemented with the addition of a meeting space that lends itself to a number of uses and can be rented out externally. The offices comprise a series of different sized spaces that can be flexibly adapted as required, and the chosen furnishings suit a range of different contexts.
The end result is a visually striking design with plenty of wow factor. The materials used for the store have been chosen with environmental considerations in mind and are in line with the building's LEED certification.
COMMITTED TO CREATING SUSTAINABLE COMMERCIAL PROPERTY THROUGH COLLABORATION
Sustainability
When it came to sustainability, both the client and the building owner were fully committed to achieving the highest possible standards for the property. The plan was to evaluate and monitor the carbon footprint of both the building materials and the finishes, with an aim of achieving LEED ID+C v4 Gold at a minimum as part of the building's wider Grand Hansa project. The project team also carried out an inventory of the building's historic fixtures and finishes. These have been retained wherever possible in keeping with the store's wider aesthetic.
"Ruohonjuuri's new flagship store on Mannerheimintie is a pilot project for sustainable renovation. Our entire design process has been informed by a BIM-based carbon estimating method, and we also carried out a further sustainability analysis encompassing both the renovation and all future retail activity to ensure that we had a thorough understanding of the most effective interventions available to us. Sustainability has informed every phase of the building process. What matters, above all, on a project of this kind, is that all parties involved have a shared understanding of the goals, methods and strategic aims underpinning it Ruohonjuuri and Ylva, , the building owner, have both chosen to prioritise sustainability both in aspirational and practical terms, and that commitment has been instrumental to the success of this project." Sami Maukonen, CEO, Amerikka
Thinking about a development project? Get in touch! Contact Maria Kelter, Account Executive, maria.kelter@amerikka.fi or +358 40 595 8580.
Ruohonjuuri and Ylva have chosen to prioritise sustainability both in aspirational and practical terms, and that commitment has been instrumental to the success of this project. / Sami Maukonen, CEO, Amerikka
Read more