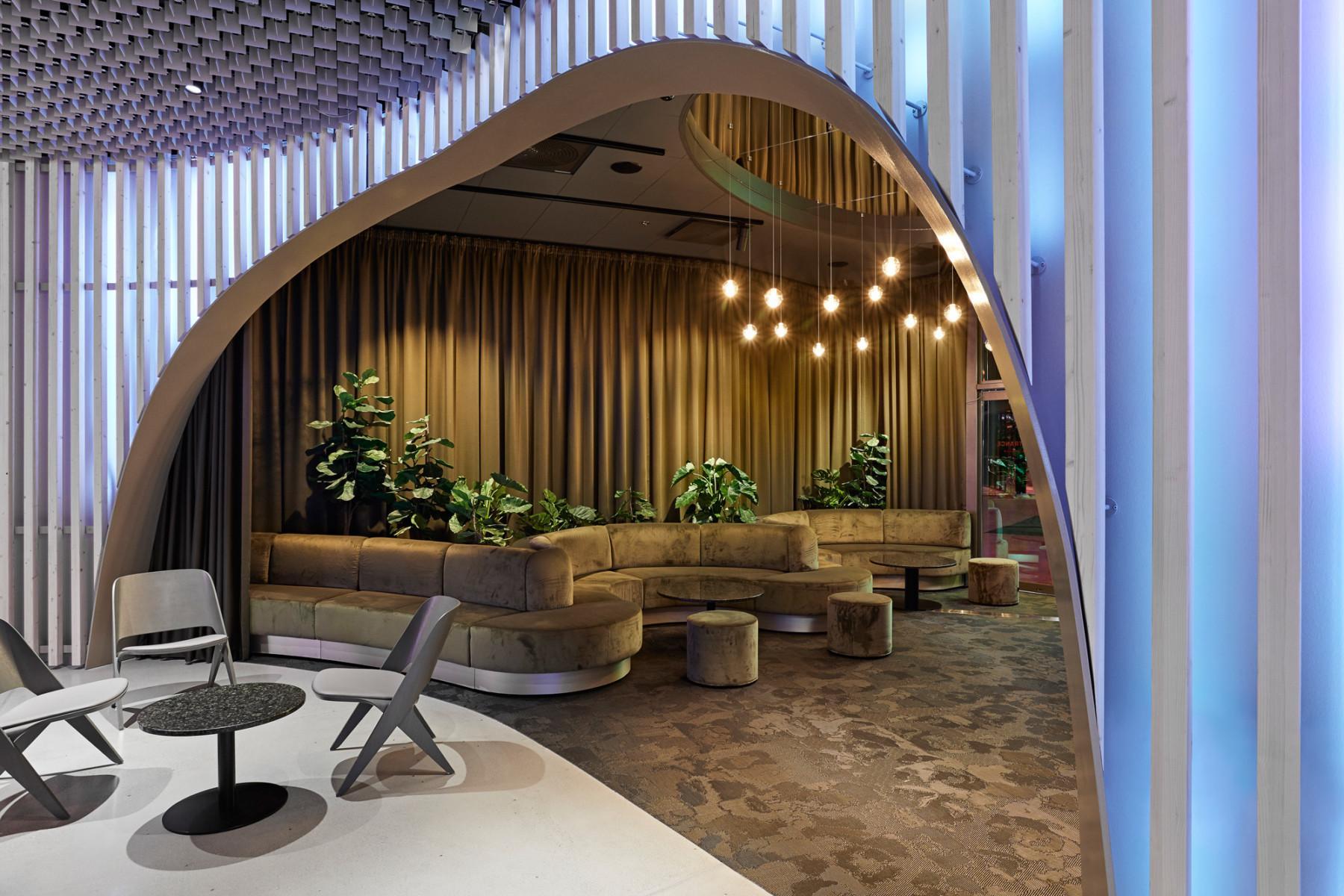 facts
Subject:
Casino Tampere, Nokia Arena, Tampere
Customer:
Veikkaus
Timeframe:
Completed in December 2021. Design competition 2019–2020, conceptual and developed design 2020, technical design 2021
Scale:
Approx. 2,000 sqm
#designbyamerikka:
Concept design, service design, architectural design, interior design
Partners
Mono Graphic (lighting), Readcon Oy (construction consultant), Doohlabs Oy (technical experience design), Craneworks Oy (digital signage solutions), Consti Korjausrakentaminen Oy (main contractor), SRV Rakennus Oy (Nokia Arena main contractor), Piantek Oy (fixtures), NoHo Partners Oyj (restaurant operator), Innogreen Helsinki (green features), Bob the Robot + Veli Creative Oy (technical implementation, experience), Aihio Arkkitehdit + Studio Libeskind (Arena main contractor), Hartwall (Casino Taproom partner) ZOAN (VR and AR specialists), Altia (Casino Emerald Lounge partner), Tila Partnerit Oy (furniture) and Albratrossi Tuote Oy (office furniture)
Core Team
Suunnittelutoimisto MUUAN + Suunnittelutoimisto Amerikka - Tuulikki Tanska, Aleksi Rastas, Teemu Nojonen, Alice Mattila, Laura Lampo, Mervi Karvinen, Oona Airas, Tiina Antinoja, Xiaoyu Chen, Anna Wawrzyniak, Jussi Salmivuori, Oskari Lumikari, Mikko Lahti, Tytti Kaattari, Tomi Jokinen, Topi Vallarén
Broad ranging collaborative approach to experience and spatial design delivers a new and unique urban destination.
Background
Casino Tampere in the heart of Finland's second city Tampere is the first new casino to be built in Finland for thirty years. It offers an entirely new spatial and experiential setting that offers gaming and other services to registered adult visitors with a professional and customer-oriented approach. The venue also offers amenities to those who are not looking to avail themselves of the opportunities for gaming and betting.
The conceptual, architectural and interior designs were delivered by a consortium comprising MUUAN + Amerikka. This multi-disciplinary team set out to create an entirely new kind of destination, with Nokia Arena becoming a key pull factor for the city of Tampere. Existing, similarly high specification attractions include Särkänniemi amusement park and the Finlayson factory quarter. Casino Tampere will complement the Arena's own events programme and amenities.
The Casino Tampere concept is focused on providing an attractive destination for adult visitors that will be continually evolving to retain its relevance and will enrich the wider offering at this venue. This multi-channel casino has been designed to deliver a personalised experience on a number of levels and is capable of catering to the unique needs of individual visitors while also serving as the backdrop for large scale public events. The events at the Arena will be screened at the casino, allowing the spaces to be used flexibly and offering visitors diverse ways to experience what's going on. The spatial design here focuses on creating a warm and friendly atmosphere with an open feel.
The casino's social gaming concept is combined with an extensive restaurant offering to meet the needs of new user groups, creating a leisure destination that is urban, sustainable, and thoroughly approachable. This new-style approach has been chosen with new target audiences in mind.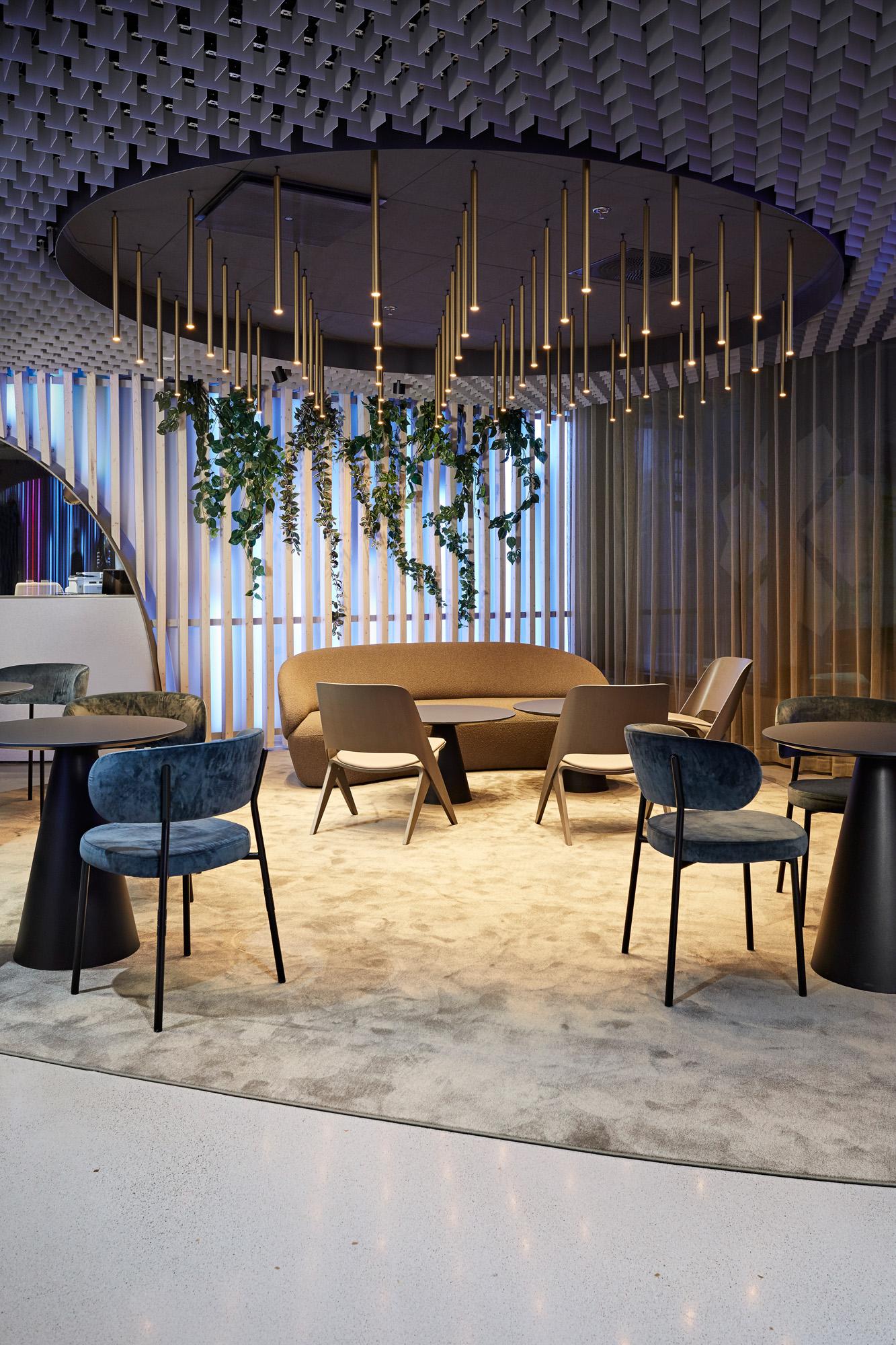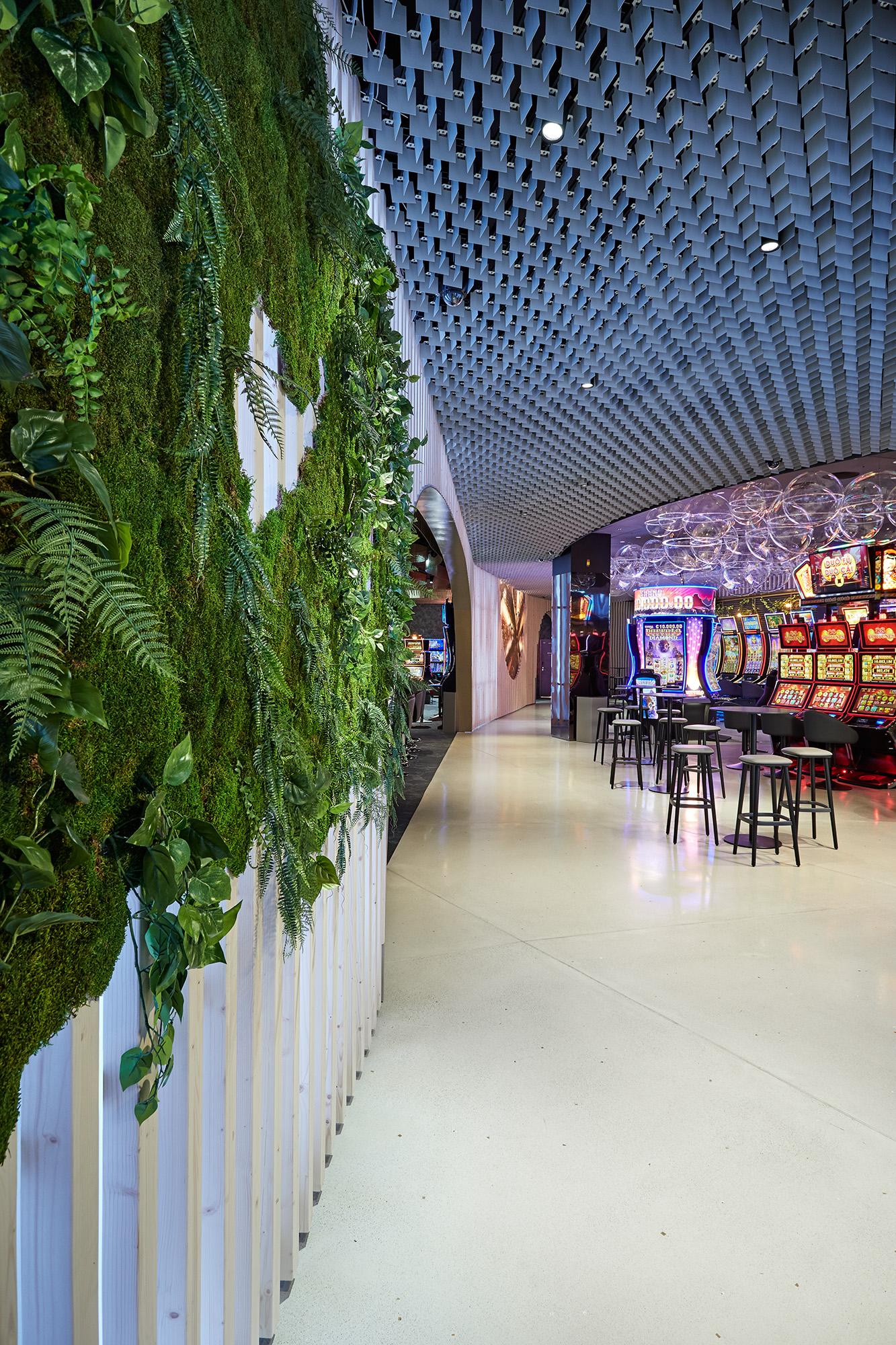 Architectural aspects
The casino's architecture delivers a modern and quintessentially Finnish aesthetic that's as authentic as it is idiosyncratic. In contrast with more traditional establishments, Casino Tampere has been designed on a human scale. It offers a series of spatial settings in various sizes and atmospheres that are designed to cater for the needs of different target groups both in terms of the experiences and social interactions they offer.
Virta, the Finnish word for flow, is a green and inviting space that meanders its way through the casino, pulling together its services and amenities into a single easy to access whole. Above all, it is a space for relaxing and socialising. Virta's architecture brings together the best in wood construction and smart lighting and digital signage solutions, creating around 250 metres of digital screen that will be used to a display a wide range of continually updated content. The Virta space is adjoined by a series of "bays". These areas serve as lounges and other seating areas that patrons can use for dining or to play mobile sports games while logged in as a Veikkaus loyal customer. There are also large screens for catching up on the latest live sports.
In addition to these customer areas, Virta also comprises seven gaming areas, each with their own dedicated theme and bespoke interior aesthetic. Kivikko, the smallest of these spaces, is the first one patrons will experience when arriving through the north entrance, while Kima is dedicated to single-player gaming. The lighting here glimmers and reflects. The dimly lit Louhos is designed for more sustained activity that calls for greater focus and careful judgement. Mystiikka and Loiste bring an abundance of Arctic colour that light up the casino's interior and exterior alike, while Kuohu and Ukonkivi are both dedicated to showcasing the latest in gaming.
The casino is home to two bars, each with their own distinct identity. In the middle of the Virta space, there is the Casino Emerald Lounge serving Scandi-inspired tapas dishes and a wide range of cocktails and mocktails. Suisto by the casino entrance is home to Casino Taproom, a brewery restaurant where visitors can watch sports while enjoying the constantly changing beer menu. The food menu has been designed to complement the setting and drinks. Both bars are operated by Noho Partners.
The design endeavours are not limited to the public areas. Great efforts have been made to also create a series of behind-the-scenes facilities that offer an effortless fit with the wider whole. These facilities are located in the immediate vicinity of a railway, and the priority has been to ensure that the vibration generated by the trains is carefully managed, including in terms of the building structure.
A responsible approach based on openness, transparency and unity
Social responsibility and sustainability
A commitment to social responsibility and sustainability informs every aspect of the design. This is reflected in the use of sustainable, locally produced materials, energy efficient LED lighting, smart water consumption and other intelligent technical solutions. The casino and Nokia Arena have both been awarded LEED Gold certification. At the casino, social responsibility means openness, transparency and unity. These values play a hugely significantly role across the entire Nokia Arena. Importantly, they are in evidence immediately on arrival, with all visitors asked to sign in for the duration of their visit.
Thinking about a development project? Get in touch! Contact Maria Kelter, Account Executive, maria.kelter@amerikka.fi or +358 40 595 8580.
Read more