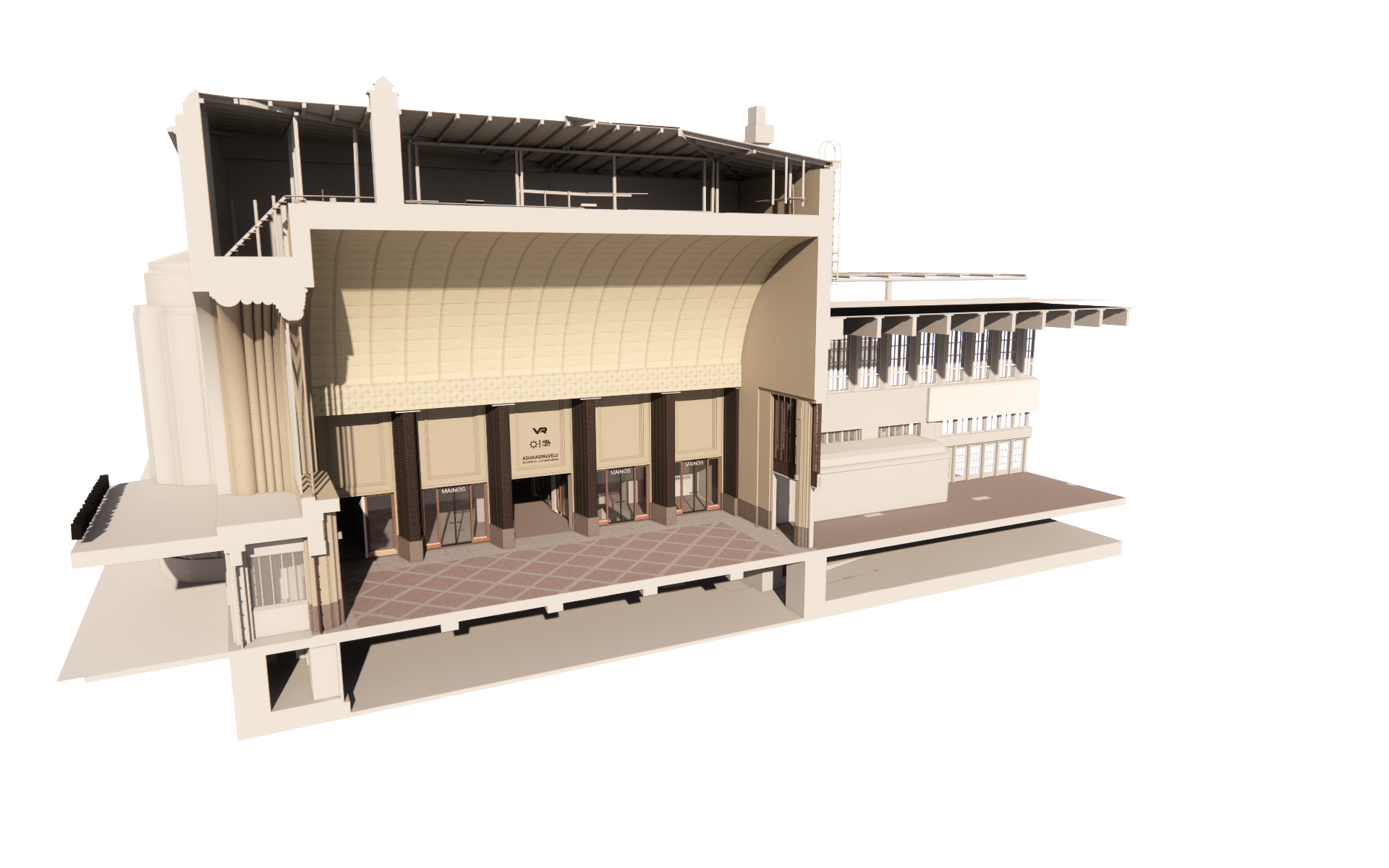 facts
Subject:
Helsingin Päärautatieasema: konseptin uudistus ja palveluiden uudelleenjärjestäminen.
Customer:
VR Oy
Timeframe:
2018-
Scale:
Our concept design work comprised the entire railway station, totalling 16,000 sqm
#designbyamerikka:
Created railway station concept upgrade and restructured services. Responsible for architectural design of new kiosks in Main Hall. Delivered new internal facades for commercial units in West Wing and redesign of passageway. New outdoor seating area for Kaivokatu. Master plan for signage and advertising installations. Letting packs for commercial units, design guides for tenants and harmonising tenant designs.
Top 3
Opportunity to refurbish a flagship listed building with a sensitive yet practical approach
Reorganisation of new and existing services to better align with travellers' needs
Creating new kiosk and other commercial units as part of this unique setting, ensuring a seamless fit through carefully considered use of materials and form.
Project team
Amerikka: Sami Maukonen, Jussi Salmivuori, Taija Maunu, Mikko Lahti, Taru Leppänen, Topi Vallarén, Fred Ash, Matias Hietanen, Tomi Jokinen, Teemu Nojonen
VR: Jani Jääskeläinen, Project Manager
Lead designer: Arkkitehtitoimisto A-Konsultit Oy / Talli Oy and Arkkitehdit Soini & Horto
Helsinki Main Railway Station is one of the most beautiful buildings of its kind in the world
Unique station building
Helsinki Main Railway Station is often listed among the most beautiful in the world, including by the BBC. Built to a design by Eliel Saarinen in 1919, the building forms a vital part of Helsinki's history and that of Finland more widely, and it is visited by hundreds of thousands of people every day. The amenities offered at the station and the spatial flows have remained in flux for some time. The changes have been driven by a lack of space, changes in both passenger and freight traffic over time as well as well as the addition of a direct link to the Asematunneli underground passage in the late 1960s.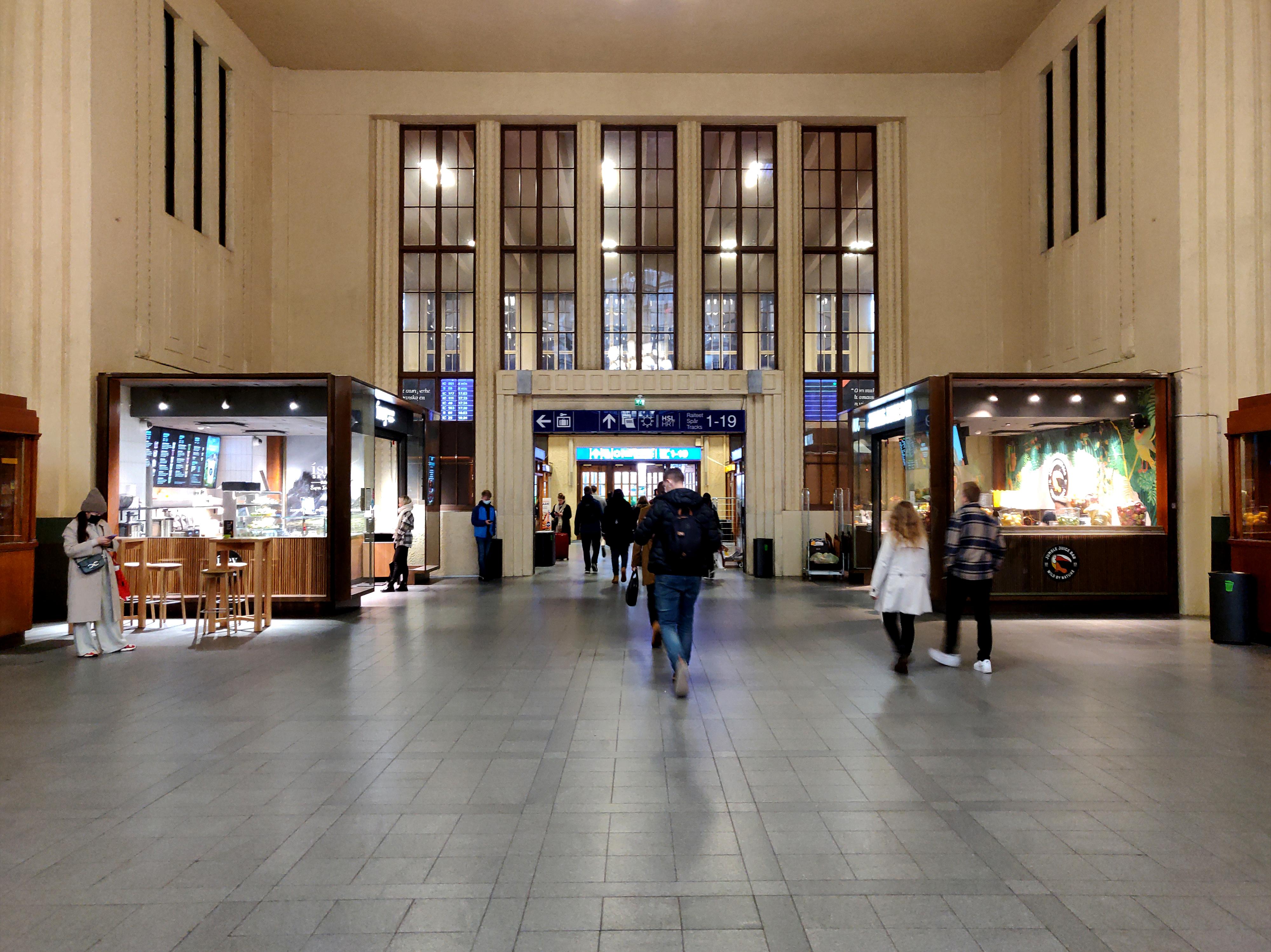 New design led by research
The latest upgrade was again motivated by changes to how rail services are delivered, notably the arrival of online ticket sales technology. The project also coincided with the building itself requiring refurbishment. A third important factor were wider changes to the city's urban structure, particularly the new hotels planned for the station's immediate vicinity, which will bring more international service users to the station.
At the start of the project, we carried out an extensive scoping and analysis exercise. Based on the knowledge and understanding we gained, we were able to build a clear picture of service requirements at the station. Rail travellers remain the largest and most important user group, but our target audience was broadened to encompass other users, including staff working in nearby offices. As things stood, almost all services at the station were geared towards travellers and intended to be accessed quickly. Our analysis suggested that there was also demand for services involving longer customer visits. These services will attract new types of users to the station, are better placed to cater for those not intending to travel and will enhance the station's amenity and safety.
Vibrant and attractive
The project began with a decision to concentrate all passenger service provision in the building's west wing. This decision was prompted by ticket sales moving online and the former Lippuhalli travel centre becoming redundant as a result. Joining VR customer services in the West Wing was HSL customer services and visitor information desk. The toilet and left luggage facilities in the basement will be upgraded.
The former travel centre will be converted into a restaurant. Demand exists for a high-quality restaurant at the station. The conversion is a good fit with the space, as it was originally designed to house a restaurant and waiting room. The Postitalo-facing end, which has until now remained closed to the public, will house a cafe that caters for longer visits. Kaivokatu will gain an outdoor seating area which is set to enliven the urban space in this central part of Helsinki.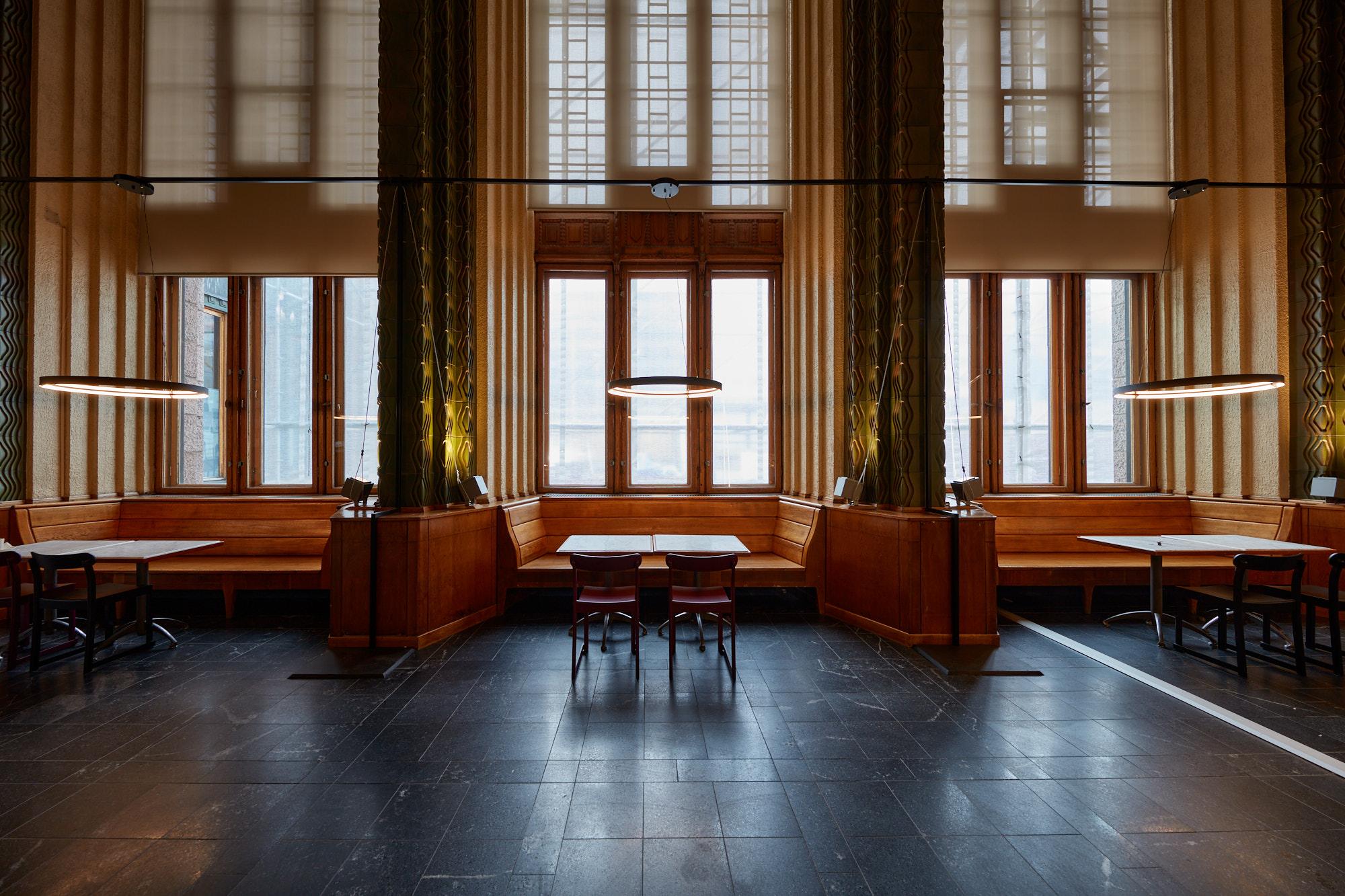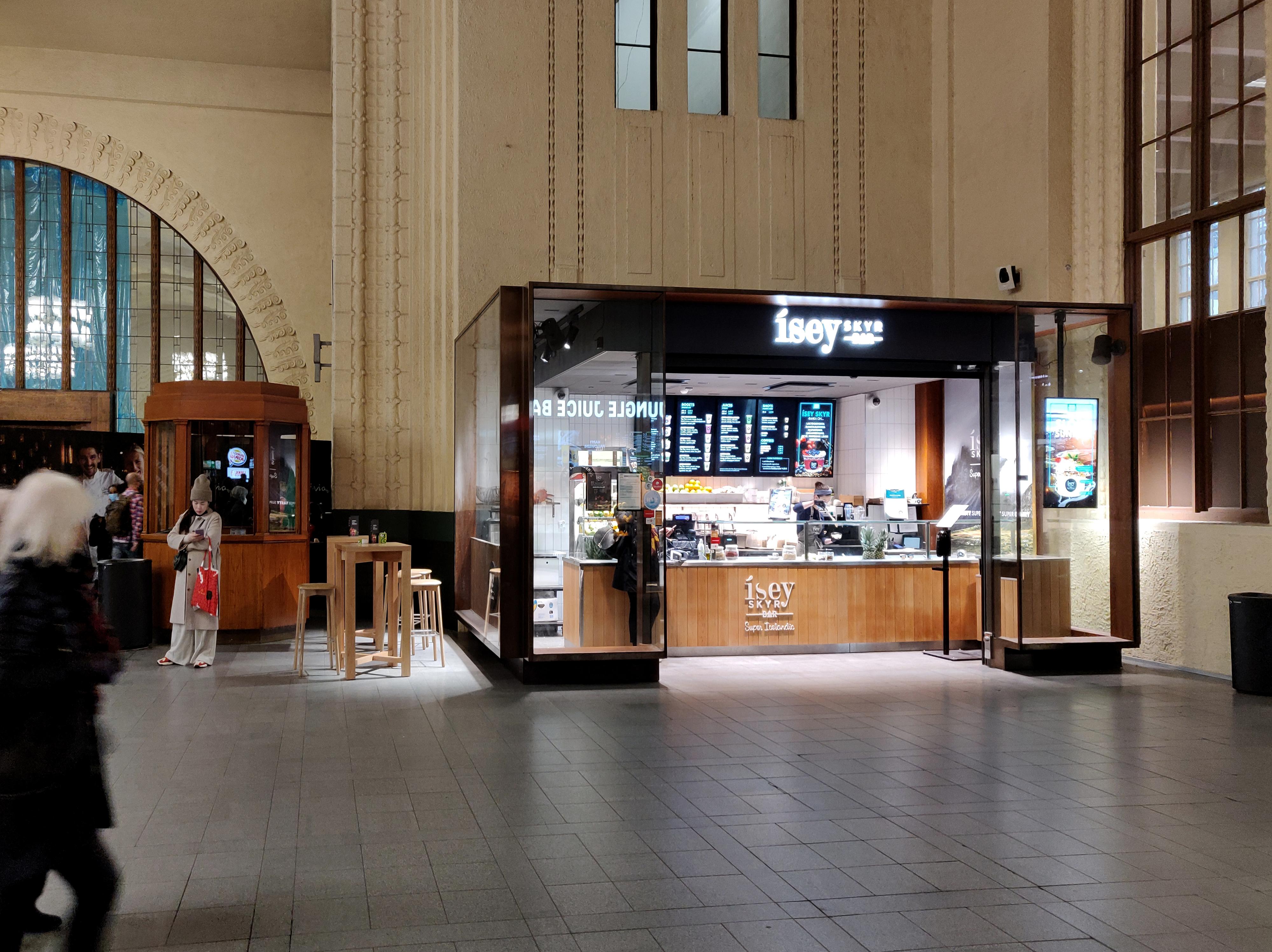 New kiosks for Central Hall
The station's Central Hall now houses two new kiosk-style outlets. They are located in the busiest part of the station concourse, on either side of the pathways leading to the Kiosk Hall. The kiosks will serve a range of healthy and convenient snacks that are quick and easy for customers to pick up. Minimalist in form, they are built using aged brass, oak and glass. The new kiosks are designed to provide a stand-out visual feature that blends in effortlessly with the building materials already present. At Amerikka, we were responsible for their architectural design.
New commercial units in West Wing
A new location was found for the stairs and lift to the basement to bring them closer to the customer facilities. The vacated space was used to create a new commercial unit, which creates a symmetrical visual pattern internally for the West Wing. The shop fronts and the passage way leading to the West Wing also underwent an upgrade. We designed the shop fronts using oak and glass, while aged brass is used for the fascias and signage.
Photographs and other visuals: Amerikka, Kulttuurihalli photographs by Aleksi Poutanen and Peter Lundqvist.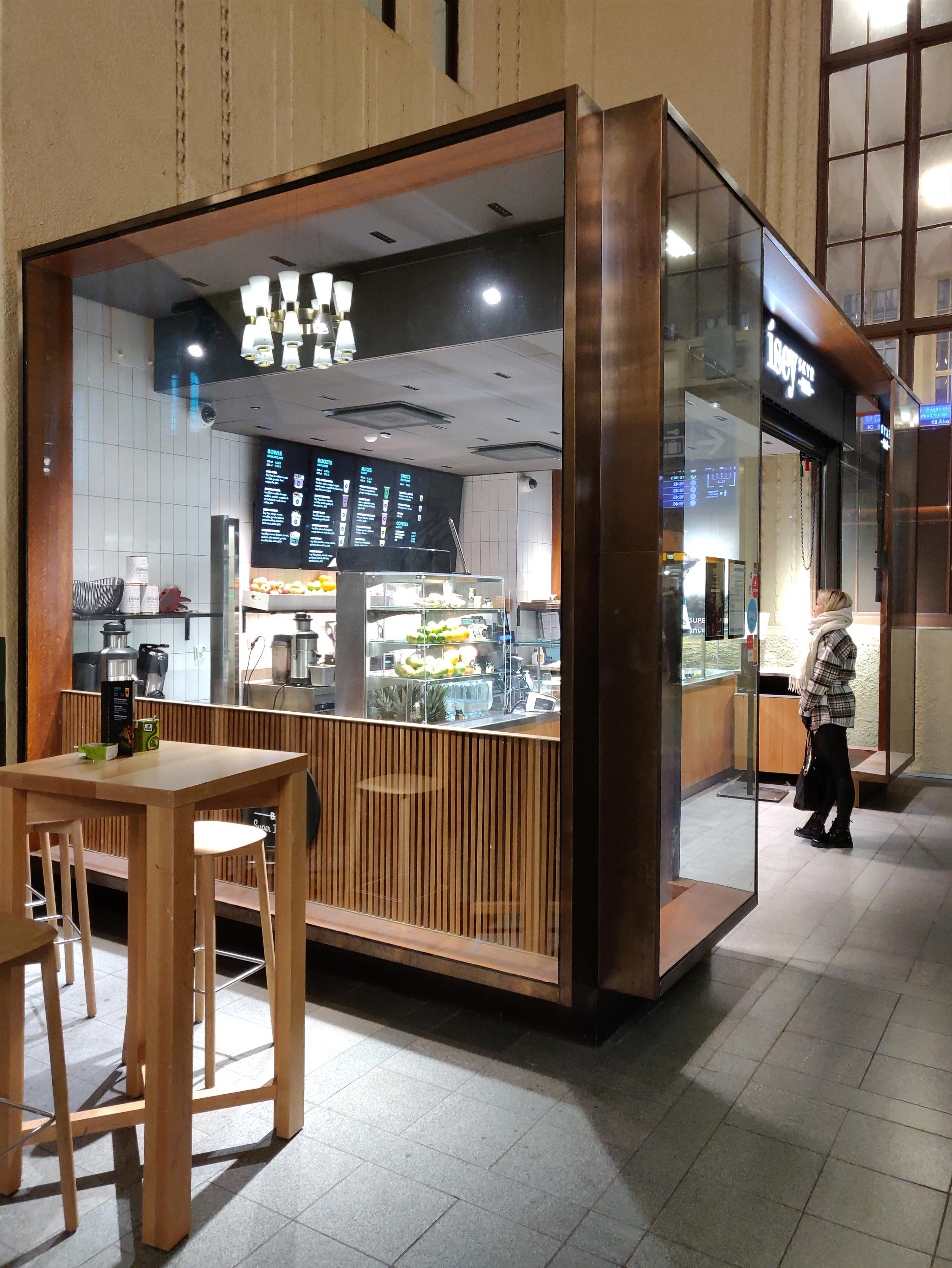 Watch Heart of Helsinki, a video we have created in collaboration with our partners to celebrate Helsinki's iconic railway station
Read more