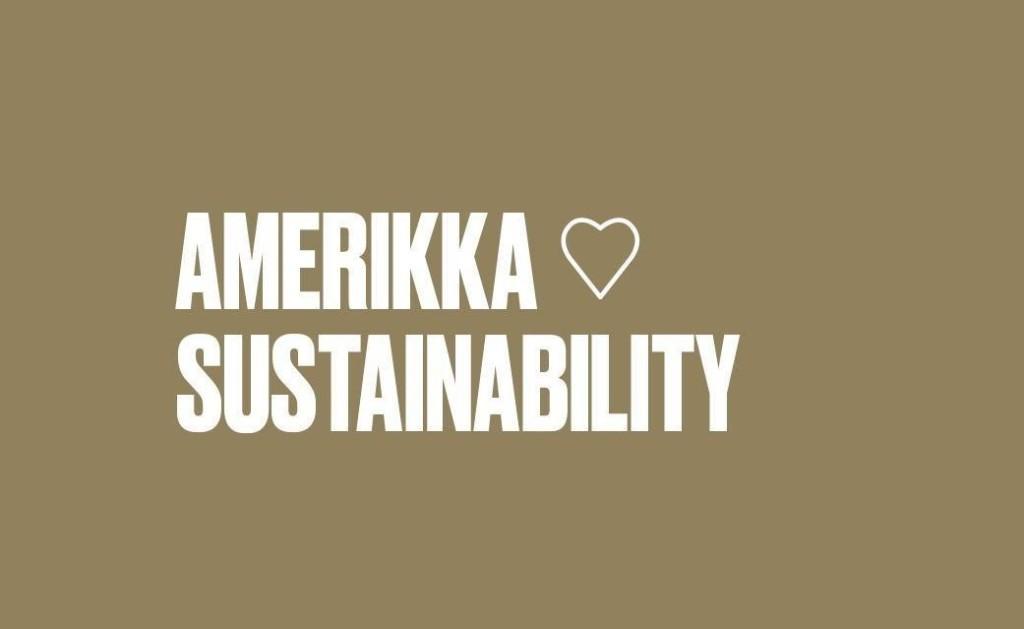 Join us on a journey towards better tomorrow
Sustainability has arrived, and it's here to stay!
Sustainability is set to feature increasingly prominently in Finnish property sector business models. This renewed focus is due to reforms that will see climate impact certificates and construction product declarations included as part of the Finnish building permit process. Used to assess carbon emissions and lifecycle potential, they will be a formal requirement by 2025 at the latest. At Amerikka, we're getting ready to do our part by launching our own sustainability initiative. The purpose of our new sustainability project is to make sure that we are well placed to provide expert advice and support to our clients in line with the latest statutory requirements. But we want to do more; although the new requirements will initially apply to new development only, our vision is to extend this new way of doing things to all our refurbishment and spatial design projects.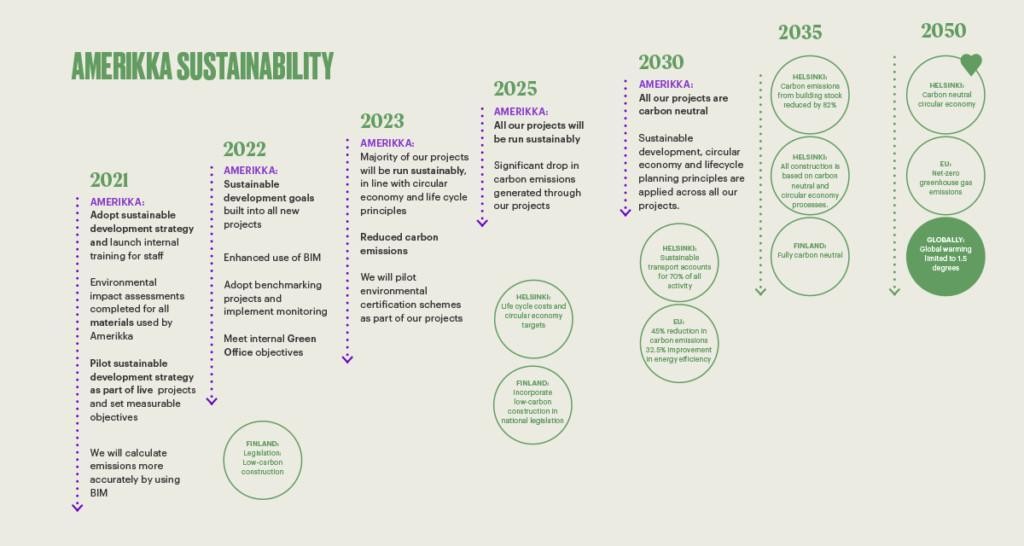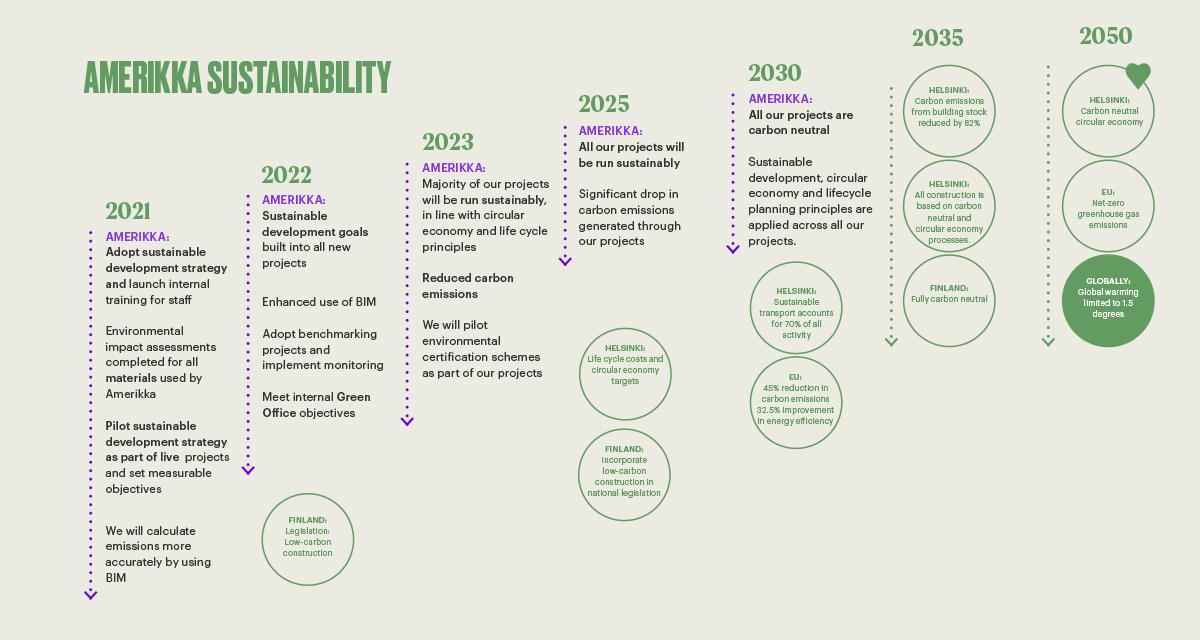 Sustainability – on-trend and profit-friendly
Larry Flink, Chairman and CEO of the world's largest money-management firm BlackRock, has a tradition of writing an annual letter aimed at his follow business leaders. For many years now, he has highlighted the role sustainability plays in creating investment potential and generating value for stakeholders. Profit maximisation is no longer the right goal for us to follow, he argues, given that sustainability is the only way we can ensure that our planet remains habitable for generation to come. A sustainable approach is essential for those wanting to ensure long term business viability and profitability and to protect shareholder interests.
A 2020 survey run by Finnish communications consultancy Ellun Kanat found that 77% of Finnish people believe that businesses must play a role in finding solutions for the environmental and social issues we face. This view is shared by more than 70% of current and future workers who say people should refuse to work for businesses if they are not ethically run. These findings show that sustainability is a topic that resonates strongly with consumers and impacts on how businesses are viewed by potential future recruits. This is also the reason that many top business leaders, like Jeff Bezos at Amazon, Tim Cook at Apple and Mary Barra at GM, have redefined the purpose of the companies they run to place sustainability at the centre of what they do.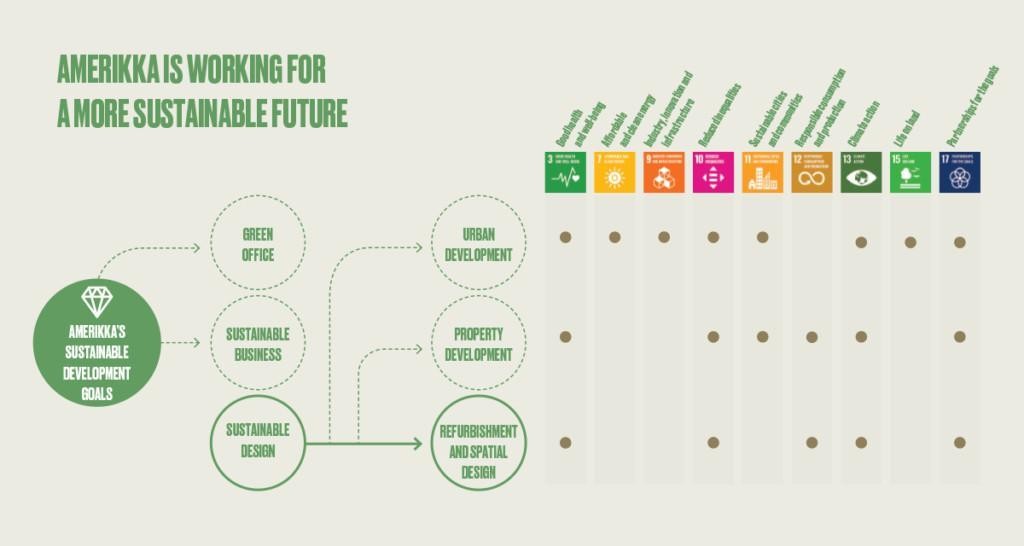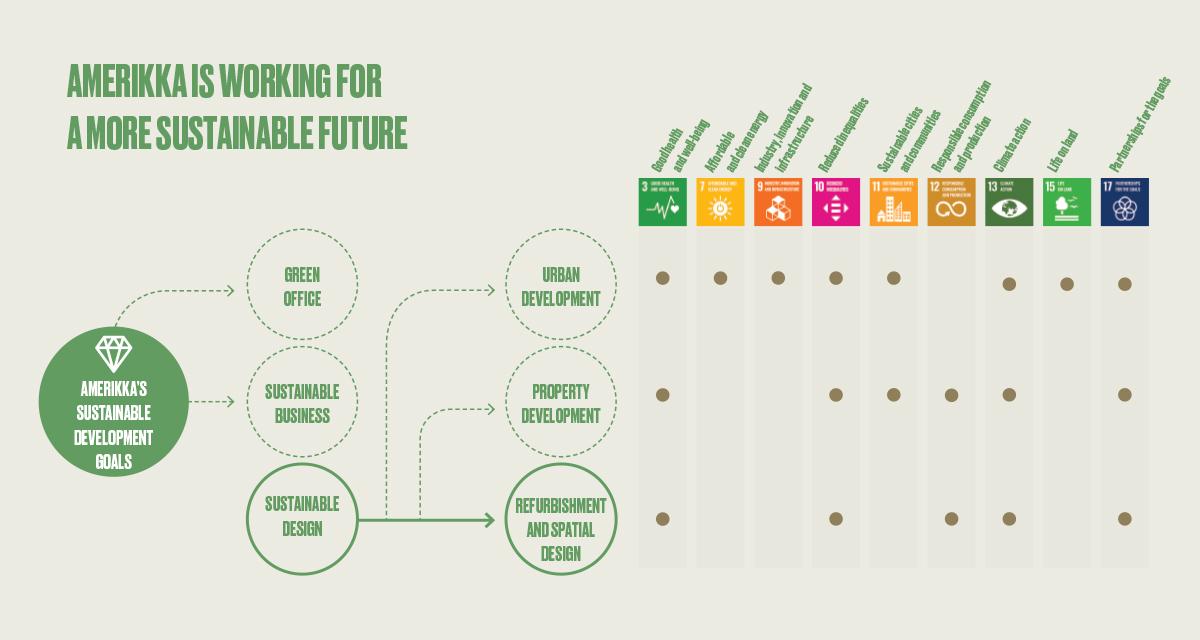 Delivering sustainable development
Sustainable development is a broad concept encompassing environmental sustainability, social sustainability and economic sustainability. When it comes to sustainability and the built environment, it is worth bearing in mind that construction activity and property are responsible for 40% of all carbon emissions globally***. Here at Amerikka, we've been delighted to see how committed our clients are to promoting sustainability. Where prime central Helsinki real estate is concerned, it is not just environmental, social and economic sustainability that's on people's minds. Cultural sustainability is very much on the agenda too. Taking a culturally sustainable approach to property management means preserving existing building stock, maximising useful life and looking holistically at how long current usage can be sustained. The Kaivopiha shopping precinct and the city's main railway station are both excellent examples of this approach.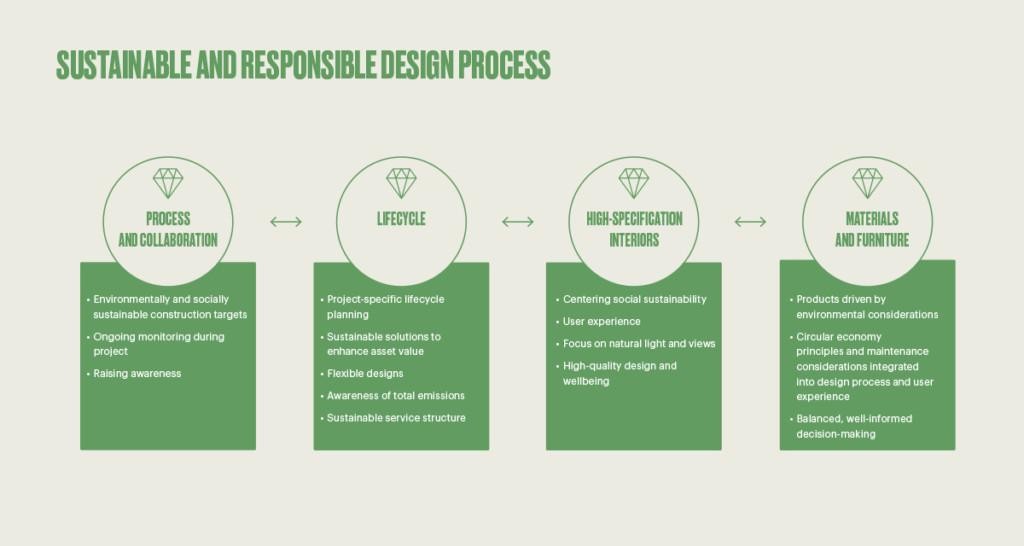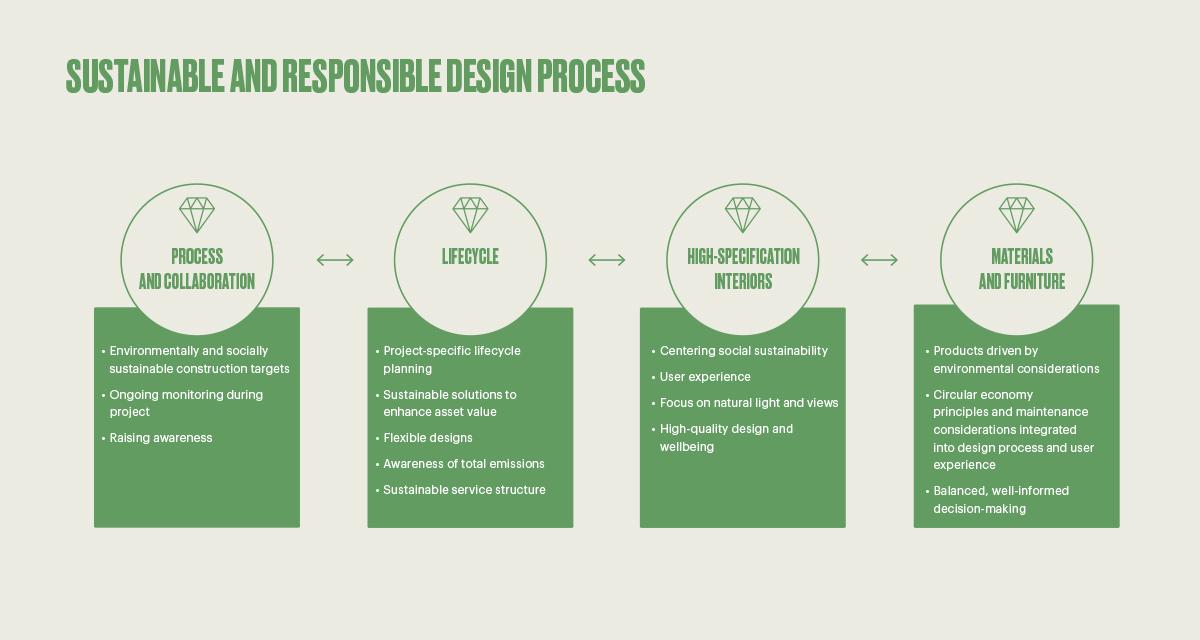 Amerikka is actively committed to building a sustainable future
At Amerikka, we have created our own sustainability roadmap and sustainability criteria based on national and international emissions targets and other sustainable development guidelines. What this means day-to-day is that we will incorporate sustainable practices into everything that we do an offer our clients the opportunity to do the same in the context of their projects. To date, we have already put a sustainability road map in place along with a series of sustainability processes that will inform our work. As we now continue to build on the progress we have made, we would like to extend an invitation to all our clients to join us on this journey towards a better tomorrow.
This article was written in collaboration with Amerikka's sustainable development specialist Susanna Leppänen (SAFA) and project manager and interior architect Laura Lampo. Our sustainability project is supported by funding from Business Finland.
References:
*LarryFlink's2021lettertoCEOs:
https://www.blackrock.com/corporate/investor-relations/larry-fink-ceo-letter 
**Ellun Kanat survey:
https://ellunkanat.fi/rytmihairiobarometri/ 
*** "Theworld needs corporate activists. With these 5 steps you can become one" / World Economic Forum 2020:
https://www.weforum.org/agenda/2020/11/the-world-needs-corporate-activists-with-these-5-steps-you-can-become-one/
Read more