The ABC of restaurant design
The restaurant scene is vast, and trend watching is a key part of a designer's job description. Our job here at Amerikka is to create restaurant concepts that really work. Intuition is not enough –  we know it takes careful planning and big picture thinking to get a concept off the ground. We always start the process by finding out what the client's own priorities are and what else is out there.
Data led design
We make use of a variety of different sources, including open data and consumer surveys, and our decisions are always based on the best available evidence. We know that in order to deliver quality, we need to develop an understanding of the space we're working on as well as our client's needs.  We create all our design concepts in consultation with our clients, using our bespoke design process. The client is always at the heart of the design process, and we're there to guide and challenge them.
Workshops for concept development
In our experience, it's important to identify a set of clearly defined, shared goals early on in the process which we can then continue to finesse in a workshop setting. The workshop model lends itself to lots of different types of projects, whether you're looking to create a new bricks-and-mortar service or establishing an online business. The workshops are an excellent opportunity to explore lots of important topics like interiors, target audiences and product and service offerings, including the nitty gritty of what you are offering, for whom and at what time of the day. At Amerikka, we're experts at research and analysis and faciliating participatory design processes based on the insights we have gathered. In other words, our concepts are always created in collaboration with our clients. They are then used to plan the implementation and, ultimately, to deliver a brilliant new space.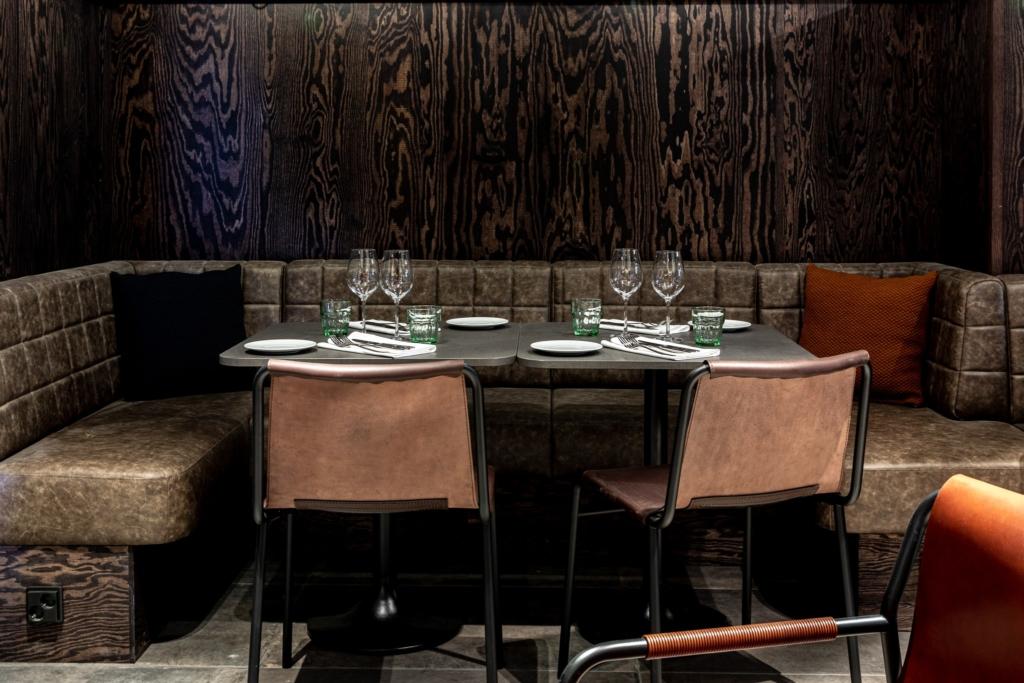 Putting functionality first in the design process
When you're designing a new venture, it's important to keep in mind not just your end customer but also the staff that will be working within the new space you're creating. We believe that to achieve the best possible outcome for your business, making sure that the practical aspects of the operation are all set up to run smoothly is key. With restaurant design, it's also vital that you have a clear understanding of your audience; who you are targeting and what you want to offer them.
There's a huge difference between designing a restaurant concept for a transport hub, where visits are always likely to be time-limited and creating one for a more conventional setting where people come to settle in, relax and enjoy themselves. It's also important to give some thought to how the space can be made as flexible and adaptable as possible. Staff matter too. When they enjoy their workplace, that enjoyment is immediately reflected in the customer service they offer. The designer's responsibility is to make sure that everything has its own place and all the equipment the staff need are always to hand, where and when they need it, whether they're working at the bar or in the dining room. When that practical side of things is taken care of, it makes working so much better and easier and faster too.
Designing multi-restaurant concepts
When you have several restaurants under one roof, it is essential that you are able to take everyone's individual needs into account during the design process. The restaurants might be targeting different audiences or they might serve completely different styles of food. Making it all work seamlessly can be challenging, as there are so many things to consider. The different restaurants may also have different technical specifications they need to work to.
Sometimes, our work doesn't actually involve the physical restaurant itself. And at other times we've been asked to create the design for a restaurant as well as the public areas around it. Often, we will create a physical and conceptual framework for a restaurant and the restaurateur fills in the rest. We can also help to shape the design and purpose of the social areas adjacent to the restaurant. The design process is largely informed by the restaurants chosen for a given site. The challenge lies in making sure that the shared areas complement every single one of those restaurants both in terms of their functional aspects and visual dimension.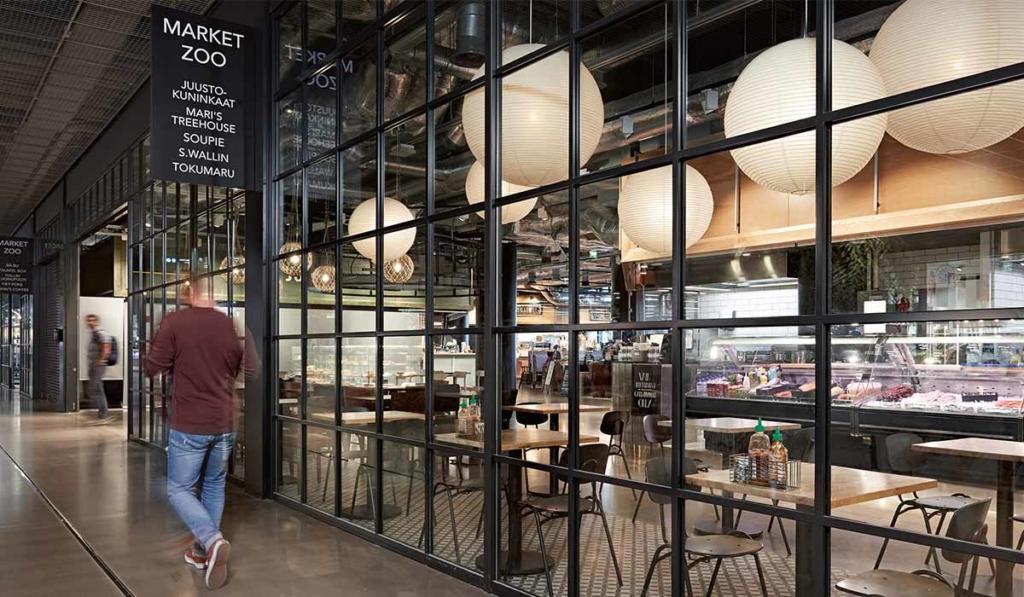 Business-led decision-making
At Amerikka, our process is not just about interiors, it's about place-making. A key part of what we do is developing a thorough understanding of our clients' business and incorporating that commercial dimension into our work.
When it comes to restaurants, "busy" is always the best look. The ideal outcome for us is a warm and welcoming restaurant that's brilliant to both look and work at.  We carefully think through every single task and process involved in managing your restaurant to make sure that, once it's open, you can run it exactly the way you want to. With that practical side of things taken care of, the work itself is easy, efficient and enjoyable too!
Find out more about Amerikka's approach to restaurant design here:

This article is based on a video shown above featuring Amerikka's Office Manager and former restaurant manager Heli Sirén, interior architects Tomi Jokinen and Taija Maunu.
Thinking about a development project? Get in touch! Contact Maria Kelter, Account Executive, maria.kelter@amerikka.fi or +358 40 595 8580.
Read more